John Tyler High School

In Memory
Zonn Land (Curbow)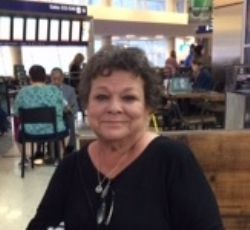 Zonn Land Curbow
July 26, 1953 - June 15, 2020
Zonn Curbow went to be with the Lord on June 15, 2020 after a long illness. When the time came to enter the gates of Heaven, she was surrounded by her loving family and friends.
Zonn was born July 26, 1953 to Lloyd and Joyce (Wright) Land in Lindale, Texas and later moved to Tyler. She graduated from John Tyler High School and attended Tyler Jr College. While in high school she met her soul mate, Rickie Curbow. They were married in 1972 and were blessed with four children. They moved to Dalhart, Texas and lived there for thirty years before moving back to Lindale to enjoy their retirement in 2014.
Survivors include her husband of 47 years, Rick Curbow, children, Jacob and Mercie Curbow, Corey Curbow, Matthew Curbow, and Megan Curbow. The light of her life were her grandchildren, Corbin and Caden Curbow. Zonn is also survived by her siblings and their spouses, Kendell and Sue Land, and sister LaQuita and Blake Graham, and sister inlaw, Phyllis Dickey. Other survivors include numerous nieces and nephews, and great nieces and nephews. And not to be forgotten is her life long best friend Belinda Kelly Kromer and all of her classmates of John Tyler graduates of 1971.
Anyone that knew Zonn knew of her love of God, family, life, dancing, and Motown Music. She was a very talented seamstress and crafter. She would bring laughter to any room she was in. Not only did she raise her children, but played a big part in raising other children through baby sitting or teaching vacation bible school. Above all, she loved the Lord and knew that He would be waiting for her with open arms.
While she will be greatly missed, we will never forget the part of our lives that she touched.
illiardfuneralhome.com/services.asp?page=odetail&id=19912&locid=0