John Tyler High School

In Memory
Terry York
Terry was a great fellow. He was strong, silent type. I remember him as very supportive and helpful, kind person. Always with a cool hand Luke kind of smile, miss ya pal.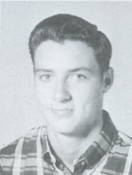 Memorial services for Terry Jack York, 60, Lindale, are scheduled for 2 p.m. Thursday, March 8, 2012, at Cross Brand Cowboy Church with J.N. Metcalf officiating.

Mr. York died March 4, 2012.

He was born Jan. 15, 1952, in Smith County to the late Jack Brown and Virginia Pruitt York. He was a life-long resident of Smith County and a self-employed electrician with York Electric.

Survivors include daughers of Terry and Carol York, Kelli York Rice and Amy York; daughter of Terry and Letha Minyard York, Jodie York; sons of Terry and Shelley York Poole, Skylar York-Poole and Tristen York-Poole; sisters, Patsy Hansen and Betty Bickerdike; 10 grandchildren; and his wife, Donna Edgar York of Lindale; and stepson, Scott Miller.

Published in Tyler Morning Telegraph on Mar. 7, 2012